Standing desks could save $84 million in health care costs
Standing desks could save $84 million in health care costs: study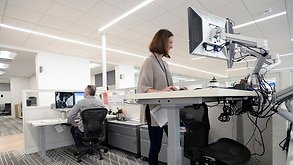 Standing at work is good for your health, according to a new Australian study.
Standing desks aren't just a fad, according to a new study which has found they are a cost-effective way to encourage people to move more.
Inactivity is a major contributor to the obesity epidemic and previous studies have shown sitting for large amounts of time every day is linked to poor health, including heart disease.
Professor David Dunstan, head of the physical activity Laboratory at the Baker Heart and Diabetes Institute in Melbourne says, prolonged sitting without breaks is bad for health.
"We have fairly strong evidence now showing that high amounts of sitting compared to lower amounts of sitting is associated with increased risk of heart disease, type 2 diabetes and even premature mortality," Professor Dunstan told SBS News.
"It appears once people are sitting for greater than six to eight hours a day that's when the risks really start to elevate," he said.
A 12-month trial involving 231 workers in Victoria has now found those who used a standing desk reduced their overall sitting time by about an hour a day.
They also had lower blood glucose and fat levels compared to those who sat at their desks for an entire working day, according to the Deakin University study, funded by VicHealth.
Are standing desks the answer to obesity?
Economic modelling, published on Monday in the Scandinavian Journal of Work, Environment & Health, found giving standing desks to 20 per cent of office workers would save $84 million in health care costs over their lives, by preventing obesity, type 2 diabetes and cardiovascular disease.
With two-thirds of the adult population in Australia considered either overweight or obese, the researchers say the introduction of sit-stand desks could be a cost-effective way to reduce spiralling rates of obesity-related health issues.
"Adopting this workplace intervention also has the potential to reduce absenteeism and improve productivity," said lead author Dr Lan Gao, an Alfred Deakin Postdoctoral Research Fellow at Deakin Health Economics.
"The introduction of sit-stand desks, alongside associated supports, is a cost-effective and innovative way to promote the health of Australia's workforce."
Prof Dunstan says standing desks are one of the potential "mini-tools" that should be deployed to prevent prolonged sitting in workplaces.
"The height adjustable workstations do provide an individual with either a seated or standing posture," he said.
While they may be increasing in popularity, a small Curtin University study of 20 people, published in journal Ergonomics, found standing desks my increase bodily pain and even slow down mental functioning.
VicHealth CEO Jerril Rechter said all workplaces could play their part in reducing the amount of time their workers spent sitting down.
"Our lifestyles - including our work life - has become more sedentary leading to a range of health issues. There are a range of strategies workplaces can adopt to help their staff to sit less like sit-stand workstations, walking or standing meetings or simply setting prompts for workers to get up and stretch their legs."
How to move more at work
* Sit-stand desks can help workers quit the sit
* Take a short stroll around the office during your coffee break
* Instigate walking meetings or replace a meeting room table with a stand-up desk
* Set a reminder to stand up or take a walk every hour
* Sick of lunch al desko? Go for a walk around the block on your lunch break
- Additional reporting: AAP